Cape Girardeau Car and Motorcycle Accident Legal Services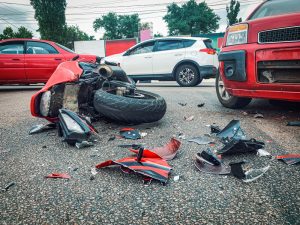 Of the estimated six million car and motorcycle accidents that happen per year, about three million of them result in injury and over 42,000 result in death. Although the injuries that are suffered in a car or motorcycle accident may heal overtime, the pain and anxiety does not. Such strain on your personal and mental health can permanently affect both your lifestyle and your livelihood. 
Unfortunately, the aftermath of a car accident could play out for months in court if you do not have the right lawyers fighting for your deserved compensation. If you have been injured in a car or motorcycle accident in the Cape Girardeau area, then rely on the legal services of Lanzotti & Rau to get you justice. 
Someone By Your Side
Many people think that getting a lawyer can be a waste of money in situations like these. However, insurance companies are never willing to just hand over compensation to victims of a car or motorcycle accident. In fact, their lawyers will do everything in their power not to spend any money. This is why it is crucial to contact an attorney immediately following an accident. By hiring an experienced personal injury attorney, you will be advised right from the start on the correct steps to take to solidify your case. By having a professional by your side, you will have an ally that will represent your best interests and fight to get you the financial compensation that you deserve.
You Earned That Money
You should never feel bad about pursuing legal action to receive monetary compensation for damages or injuries resulting from a car or motorcycle accident. A common tactic that the other party will use to dissuade you from legal recourse is to make you feel like you are being greedy. That couldn't be further from the truth. While the event that led to your injury may have been an accident, your pain and suffering earned that money. You suffered the trauma and the damages that come with being the victim of a traffic accident and need that money to take care of medical bills, cover lost wages, repair your damaged vehicle or afford a new one.
What will it cost me?
The primary concern of most auto accident victims is the cost of hiring an attorney to handle their case. In fact, this might be the motivating factor in a decision to 'go it alone.' At Lanzotti & Rau we handle auto accident cases on a contingent fee basis. This means that there is NO money up front, and there will be NO bill for attorney's fees and/or expenses. We only get paid when you get paid! The contingent fee means that Lanzotti & Rau will be paid by a percentage of your case settlement. Obviously, this further motivates us to work hard to get the best possible results for you. Our success is directly related to your success!
Your Cape Girardeau Car and Truck Accident Lawyers
If you have been injured in a car or motorcycle accident and fear that you won't get the financial compensation that you deserve, then call the lawyers at Lanzotti & Rau today. We have experience in handling all kinds of auto accident cases and we will work to get you what you need. On top of that, we only get paid when you get paid. That means we do not charge any upfront costs and there will not be any other hidden fees or expenses. What we earn comes from a percentage of your settlement. 
If you would like to learn more about our legal services, feel free to call us today at 573-335-9300 to schedule a free consultation.